*** This is out-of-date! You can an updated version here here. ***
I've been working on Influence, Inc. part-time for almost three years now, with the general sense that I'd release it... when it was finished! (I know, I know.)
For various reasons, I decided last month to set an actual deadline, and one that's not so very far in the future: April 29th, 2022.
Since then, I've been organizing my work into development sprints focused on specific goals, with new game versions posted for play testers about once a month.
Here is the (current, likely-to-change) roadmap for finishing Influence, Inc.
Subtle Signposting Dev Sprint
Nov 8 – Dec 8, 2021 (Done!)
I made various updates, with a focus on:
Additional structure and hinting around different endings, paths, and choices. (I wrote more about these updates in a separate post)
Ongoing updates to UI/UX.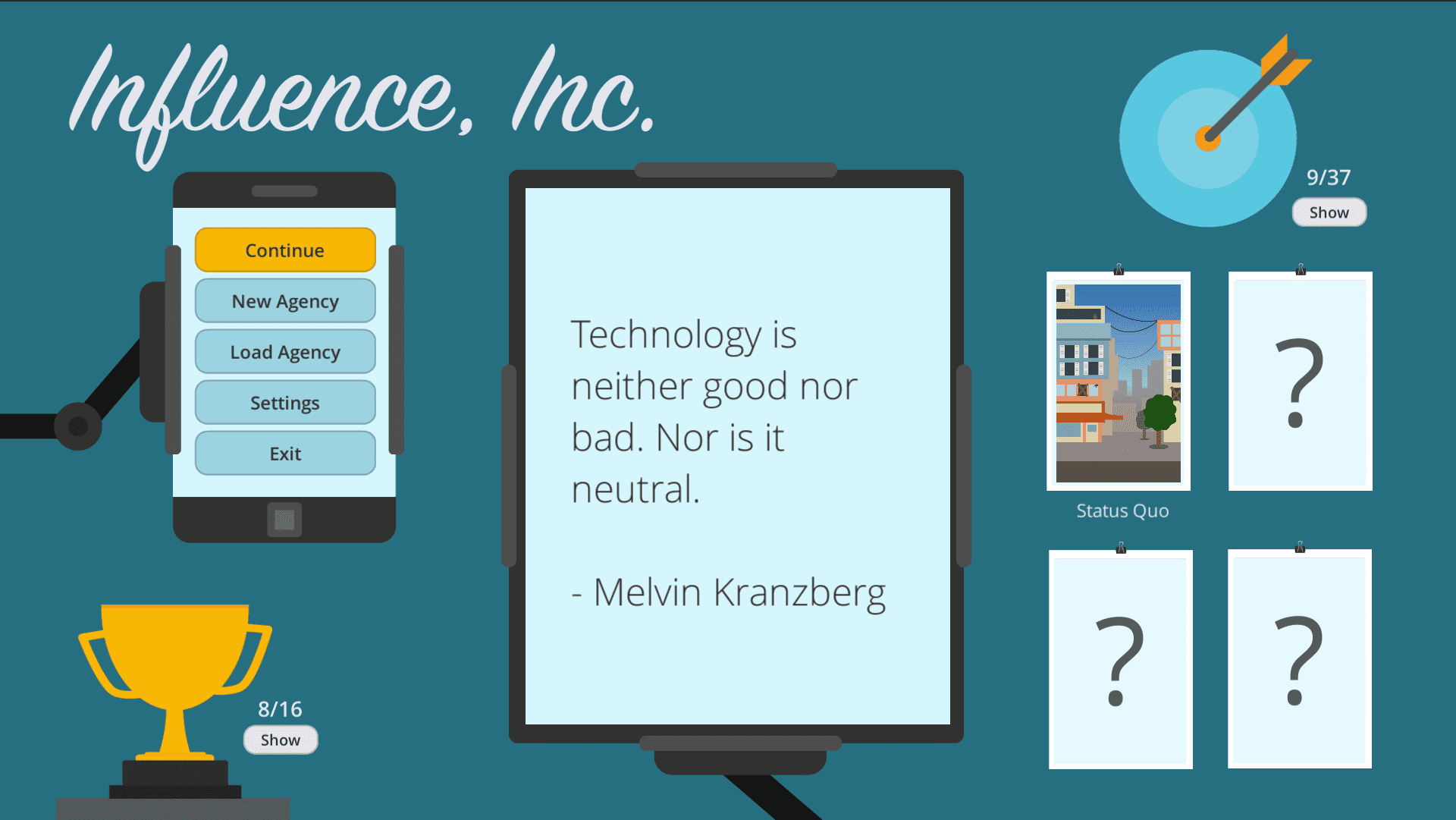 Alpha v1 Release
Dec 8, 2021 (Done!)
I released Influence, Inc. to a group of play testers with content expertise in social media, disinformation, protest movements, and/or authoritarianism.
While the game world in Influence, Inc. is fictional, it's highly inspired by real world techniques and events. I want to make sure I reflect and fictionalize responsibly, especially when representing protestors and protest movements.
I'm so grateful to everyone who has already offered to provide input at this stage – it's an amazing group of researchers and other subject matter experts. 💙
If you're interested in also providing feedback on the in-progress content, please complete this form.
I'll be gathering this input until January 10th, when I plan to start a content-intensive development sprint!
Optimization Dev Sprint
Dec 9 - Dec 22, 2021
I am going to give myself a couple of weeks to exclusively focus on technical debt and performance issues. There are places where I've done egregious things for the sake of prototyping, that need to be resolved. (This is why one is supposed to throw away prototype code! But, well, I didn't.)
A key area that I want to examine is the way that various social media items, news articles, and opinions influence each other. It's currently both more complex and less effective than it should be.
Alpha v1.1 Release (Maybe)
~ December 22, 2021
Whether or not this release happens depends on the nature of the updates from the last sprint. I'm only going to post a new version if I can do so without breaking existing save games for play testers.
Holidays
Dec 23, 2021 – Jan 10, 2022
I'll probably work on the game a bit, but in a cheerful, non-deadline-focused fashion.
Content Dev Sprint
Jan 10 – Feb 17, 2022
For this sprint, I will focus on implementing content input from various experts, as well as other content-related ideas that I haven't gotten around to exploring.
My key goals are:
Adjust and add to the events, missions, news articles, and other content in the game.
Make the game systems feel even more responsive to player choices and add a better balancing system for missions within a play through.
Make the fictional world feel deeper, with additional layers of secrets and options.
Alpha v2 Release
February 17
Release the game to the next batch of play testers. This update will absolutely break save files.
??? Dev Sprint
February 17 – March 17
Who knows! Probably everything that still feels annoying with the UX and unbalanced with the content. I'll likely add and refine sound effects and some subtle animations, to help the interface feel jucier and more responsive. But, I'm going to leave the exact goals for this sprint flexible, for now.
Beta Release
March 17, 2022
Release the game to beta play testers. This update will absolutely break save files.
Final Dev Sprint
March 17 – release (April 29th 🤞)
Prepare the game for release based on beta testing